Solar de la Plaza is located in the center of the city of Salta, known as 'Salta La Linda' ('Salta The Beautiful'). This Spanish hotel, once the residence of a traditional local family, offers exclusivity, elegance and specialized attention to serve the needs of the most demanding guests.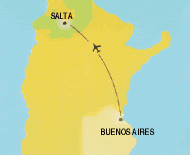 Location: City of Salta, Province of Salta, Argentina.
Access: 2 hour flight from Buenos Aires to Salta or 3 hour drive from Tucumán city.
Lodging: 26 standard rooms + 2 deluxe rooms + 2 suites.
Facilities: Restaurant, Lounge Bar, Meeting Rooms, Business Center, Solarium, Outdoor Swimming pool, Sauna, Fitness Center with aerobic machines. Laundry. Room Service. Safety Deposit Box.
Sports and Recreational Activities: Golf, Horseback riding, Trekking, Mountain Biking, Kayaking, Rafting, Polo, Hunting, 4x4 tours.
Points of Interest: Historical city of Salta, Cachi, Cafayate, Calchaquíes Valleys, Deep Valley of Humahuaca (Quebrada de Humahuaca), "Train to the Clouds".
Credit Cards: AE, VS, DC, MC.

| | | | | |
| --- | --- | --- | --- | --- |
| Summer | 26º | 16º | 78 | 60 F |
| Autum | 21º | 8º | 69 | 47 F |
| Winter | 22º | 6º | 71 | 42 F |
| Spring | 27º | 14º | 80 | 57 F |