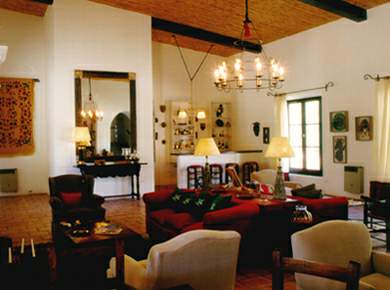 El Manantial del Silencio, meaning The Source of Silence, invites you to enjoy the kindness and generosity of the people of the Valley, the abundance of this region's sun, the depth of its silence and the majesty and colorfulness of its surrounding hills. The hotel is located in the charming village of Purmamarca, also known as the Town of the Seven Colors.
Built from typical local materials, the hotel combines perfectly with the village's environment. Its huge fireplace, in both the restaurant and the library, creates a cozy ambiance in which to enjoy the local delicatessens.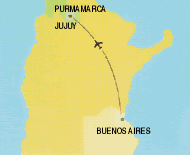 Location: Purmamarca, Deep Valley of Humahuaca (Quebrada de Humahuaca), Province of Jujuy, Argentina.
Access: 2 hour flight from Buenos Aires to Jujuy Airport + transfer to Purmamarca (1 hour drive). Option: 2 hour flight from Buenos Aires to Salta Airport + 2 hour drive to Purmamarca.
Lodging: 12 rooms.
Facilities: Restaurant, Bar, Barbecue, Living Room, Meeting Room, Gallery, Swimming pool, Solarium, Boutique.
Sports and Recreational Activities: Horseback Riding, Mountain Biking, Trekking, 4x4 tours, city tours.
Points of Interest: Tilcara, Humahuaca, La Quiaca, Javi, Iruya, Santa Victoria.
Credit Cards: AE, VS, DC, MC.

| | | | | |
| --- | --- | --- | --- | --- |
| Summer | 30º | 19º | 87 | 66 F |
| Autum | 23º | 12º | 73 | 55 F |
| Winter | 19º | 3º | 66 | 37 F |
| Spring | 25º | 9º | 77 | 48 F |