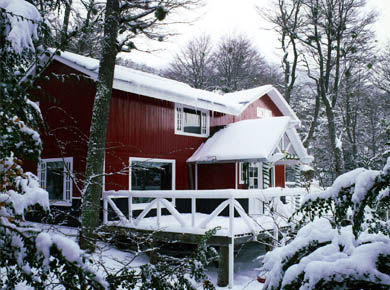 Only 7 km from the southernmost city in the world stands Cumbres del Martial Mountain Inn. Its location, close to the Martial Glacier and with a view of the Beagle Channel, assures visitors unbelievable views and plenty of outdoor activities and tours. With a friendly and personalized service this inviting Inn is placed in one of the most scenic spots in Patagonia.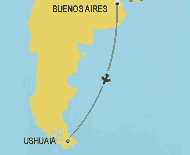 Location: Ushuaia, Province of Tierra del Fuego, Argentina.
Access: 4-hour flight from Buenos Aires to Usuahia + transfer to the hotel, located 7 Km / 4 miles away (Martial Glacier Road).
Accommodation: 6 deluxe rooms.
Facilities: Tea House, Restaurant, Room Service, Laundry Service, Internet Connection, Boutique, Living Room with TV and view to the Beagle Channel, Parking, Airport Transportation.
Sports and Recreative Activities: Golf, downhill and cross country skiing, Sledge, Snow Cat, Trekking, Ice Trekking, Mountain biking, Horseback riding, Navigation along Beagle Channel, City tours in double deck bus. Tierra del Fuego National Park. Visit to a traditional Patagonian Ranch.
Points of interest: Usuahia Prison, End of the World Train, Beagle Channel, Lake Escondido and Lake Fagnano, Tierra del Fuego National Park, Patagonian Ranches, End of the World Museum, Marine Museum and Yamana Museum.
Open: year round.

| | | | | |
| --- | --- | --- | --- | --- |
| Summer | 18º | 6º | 64 | 42 F |
| Autum | 10º | 0º | 50 | 32 F |
| Winter | 3º | -8º | 37 | 17 F |
| Spring | 11º | 2º | 52 | 35 F |